Best Sony Cameras for Photography in 2022 (Alpha)
36 Pinterest Share 373 SHARES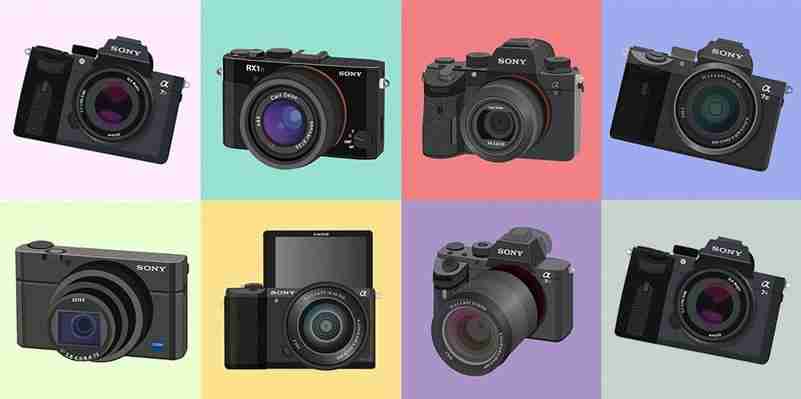 Following my decision to shoot professionally with a Sony camera about a year ago, I've been having a lot of fun experimenting with all the latest gear.
To say that there's a lot of useful and intriguing technology housed in the average Sony Alpha camera is a huge understatement.
One thing that can confuse the average shopper (aside from their notorious menus!), is the wide variety of cameras in the range.
Editor's Choice Sony a7III Incredible AF performance, amazing image quality, great battery life - best value full frame camera. Check Current Price
At the time of writing here in 2022, there are 17 fixed lens and 10 interchangeable lens bodies on offer (including one that was released just recently!)
Choosing the best Sony cameras for your needs is clearly a rather daunting task…
In this guide, I've attempted to cut through the noise to offer my recommendations of the top 7 APS-C and full frame cameras from their current range.
Best Sony Cameras in 2022
Image Product Features Sony a7 III OUR #1 CHOICE Amazing value
Excellent image quality
Fast auto focus
Great battery life View Price → Sony a9 FASTEST PERFORMANCE Lightning fast auto focus
20 fps silent shooting
Zero blackout
Great battery life View Price → Sony a7R III HIGHLY RECOMMENDED 42 mega pixel resolution
Excellent image quality
Fast auto focus
Great battery life View Price → Sony a6400 BEST ALLROUND APS-C 11 fps burst mode
Grear image quality
Excellent auto focus
In-built flash View Price → Sony RX100 VI BEST ZOOM COMPACT 24 fps burst mode
24-200mm zoom lens
Good dynamic range
Pocketable View Price → Sony RX1R II MOST UNIQUE Smallest full frame camera
Retro design
Excellent image quality
42 mega pixel resolution View Price → Sony a7R IV HIGHEST RESOLUTION 61 mega pixel resolution
Amazing dynamic range
Amazing image quality
Great battery life View Price →
1. Sony A7III | BEST ALL ROUND
See More Reviews Editor's Choice
Size: 127 x 96 x 74 mm (5 x 3.78 x 2.91″)
Weight: 650 g (1.43 lb / 22.93 oz)
Sensor: BSI CMOS Full Frame
Megapixels: 24
Pros Great image quality
Dual SD card slots
Tilting touchscreen LCD
Excellent autofocus
Improved low-light capabilities
Highly customizable
10 fps continuous shooting
Sharp, fluid, highly responsive EVF
Excellent video options
Good wireless connectivity Cons Questionable ergonomics
Rear LCD doesn't flip forward
No GPS
Confusing menu
Only 1 UHS-II compatible card slot
Make no mistake – the Sony a7III is the camera that started a revolution. If there was ever a camera that caused the most photographers to switch to a mirrorless system, this is most certainly it.
If you're thinking about switching to Sony, or contemplating a move to mirrorless from DSLRs, don't waste your time any more – the Sony a7III is pretty much your perfect full frame mirrorless camera. It has its quirks, but for the most part, it's ideal.
Despite being the company's 'entry-level full frame' camera, the Sony a7III is still the model that's caused the most waves in the camera industry since its release in February 2018.
Sitting underneath the megapixel monster a7RIII/IV and the speed demon a9, two expensive cameras that, although enticing, are rather specific in their usage, the a7III offers class-leading technology at a surprisingly affordable price (see latest discounts here).
Under the hood, everything revolves around a glorious Sony 24.2 MP BSI full frame image sensor, which produces sharp, vivid and contrasty JPEGs and RAW files, with tons of dynamic range.
If you're used to incredible high ISO performance coming from a flagship DSLR, you won't be disappointed with the 50 all the way up to 204,800 ISO of the a7III. I can shoot all day at ISO 6400 if necessary, where images are impressively clean, with noise only creeping in slightly at ISO 12,800.
As for auto-focus capabilities, prepare to be blown away. With 693 phase-detection AF points offering a 93% image coverage, real time eye-AF and 10FPS, any subject you miss will be down to pure user-error!
Eye-AF, a feature now common on all recent Sony alpha cameras, is akin to black magic. Locking onto a subject's eye ball in the frame and staying glued to it until you're ready to take the photo, Eye-AF is a feature on the Sony a7III that will have you wondering how you shot photos of people (or animals) without it before.
If you're a wedding photographer, or simply someone who appreciates the ability to shoot 100% silently, Silent Shutter Mode on the a7III will help you achieve those perfectly candid captures.
Silent shooting isn't anything new on mirrorless cameras in 2022, but the sheer level of customization options on the a7III means you can quickly dive in and out of it at the touch of a button.
Then there's the battery life – this was the biggest jaw-dropper for me, and allows me to shoot a 1,700-ish photo wedding on just one battery! That's way more than even the newest Nikon mirrorless cameras.
If you're used to long DSLR-like battery life, the Sony a7III is leagues ahead of every other brand of mirrorless cameras in this department.
Compare this with even the very best that the other brands have to offer, and you'll soon realise how far ahead of the industry Sony is with their technology.
Other notable features include a flip-out touchscreen LCD (admittedly with rather limited functionality), dual memory card slots, 5 axis image stabilization, Wifi NFC and Bluetooth, and a weather-sealed body.
All this adds up to a near-perfect mirrorless camera – so what about the downfalls of the Sony a7III? There are only a few small things, and mostly they're related to Sony in general.
Ergonomics will take a little getting used to, especially if you come from a DSLR. If you have large hands, you may need to invest in one of the many grips available, so your bottom finger can rest on something.
Then there's the menu, which is typical of Sony – deep and confusing. It'll take a while to get used to, but thank goodness for the 'My Menu' option, which helps you organise your most-used commands.
We've written a guide to the best Sony a7III lenses, but another issue some photographers have with Sony cameras, in general, is the lack of lenses with character – they're all just a bit too perfect!
(Obviously, this isn't necessarily a bad thing, but you don't get those crazy Canon L-lens flares, for example.)
Hmm.. that's pretty much it! I can't think of any photographers, professional or otherwise, who've switched to this impressive camera and regretted their decision – most wish they'd done it sooner!
The bottom line is that you're getting a massive amount of camera for a very competitive price. It's my pick of the best bang for your buck in 2022, and also the best all round mirrorless camera of the year.
Who should buy the Sony A7III?
Anyone who wants all the advantages of a world-class full frame sensor, coupled with incredible AF performance, in body image stabilization, dual memory card slots, and every other modern feature under the sun. A near-perfect camera for wedding photographers.
2. Sony a9
See More Reviews Editor's Choice
Size: 127 x 96 x 63 mm (5 x 3.78 x 2.48″)
Weight: 673 g (1.48 lb / 23.74 oz)
Sensor: BSI CMOS Full frame
Megapixels: 28
Pros Insanely fast auto focus
Dual SD card slots
3-axis tilting LCD
20 fps silent shooting
Class-leading image quality
Improved low-light capabilities
Extremely customizable
Full HD at 120 fps
Increased physical controls Cons Substandard dynamic range
Rear LCD doesn't flip forward
No lossless compressed RAW
Frozen menu when buffer clearing
Only 1 UHS-II compatible card slot
Blistering fast imaging performance in a highly customisable body, with useful features not seen elsewhere in the range.
Despite the recent announcement of the megapixel king the Sony a7RIV, it's this camera, the a9 which is still the real king of the Alpha range. (We're still reviewing the a9 II – keep your eyes peeled for our update!)
Making use of the tried and tested 24.2 full frame Exmor RS stacked CMOS sensor and BINOZ X image processor on which Sony has built its successful Alpha mirrorless cameras, the Sony a9 (review) is capable of some truly remarkable feats.
First off, the frame rate, which is frankly ludicrous – you can shoot up to 20 fps in full resolution RAW for 241 exposures. That works out to about 12 seconds of shutter button holding, which is more than enough to shoot every single frame of the Olympics 100 metre dash!
The 693 phase-detection points cover the entire viewfinder frame. Simply put, if you can point the Sony a9 at a subject, you're going to capture it in focus…
The new sensor technology in the Sony a9 allows it to read the entire sensor all at precisely the same time, so the annoying rolling shutter effect that plagues video shooters is gone, as too is 'blackout' – the momentary loss of viewfinder/LCD image when you shoot.
This means that shooting bursts of photos with this incredible camera is akin to shooting video – not only are you capturing 20 frames per second in complete silence, but there's also none of the blackout 'flicker' that pretty much every other camera on the market suffers from.
This can be a godsend when shooting fast moving action that requires your full concentration, and no 'breaks' in the scene you're viewing.
Calculating exposure and autofocus at an incredible 60 frames per second means that not only is the Sony a9 capturing every rapid-fired shot in focus, but also adjusting your exposure on the fly – compare this to other mirrorless cameras with their 'spray now, adjust in post later' approach, and you'll see how much of a time saver it is.
Other great features include dual memory card slots, three memory recalls on the top mode dial, a drive mode dial and a focus mode dial (no other Sony offers this), two separate AEL and AF-ON buttons (also unique to the Sony a9), 5-axis sensor-shift stabilization, silent shutter, 4k video with uncompressed HDMI output… really, Sony have crammed everything into this beast!
It also features the same NP-FZ100 battery as the Sony a7III, meaning around 1,500~1,900 shots, depending how trigger happy you are with that shutter. This impressive battery duration is simply unmatched by any other mirrorless camera in 2022.
The only downside of the Sony a9 is the cost (see latest price here). At a good handful of dollars more than the Sony a7III, you'll be forgiven for asking what's the point of investing that much more on the a9.
Well, despite the a7III having an incredible auto focus system with eye-detection and real-time auto focus, the Sony a9's is even better. Then there's the enormous buffer size – 33 vs 241 – a clear win for the Sony a9.
This level of AF performance is admittedly not required by the majority of photographers, but if you're shooting professionally or tracking very erratic subjects, it's easy to justify the a9.
In addition, the blackout free shooting can be worth the price difference to some photographers, especially those who shoot subjects that are so fast moving that any interruption to the viewfinder feed can cost a missed image.
Other small differences like the extra physical control dial and an ethernet port for tethered shooting all add up to more camera than the a7III, and for those who have used a Sony a9 before, there's just no turning back – it's simply that good.
Who should buy the Sony a9?
If you shoot fast moving subjects and require the highest level of auto-focus and burst rate/buffer performance of virtually any camera currently in production, the a9 is the camera for you. Image quality is mind-blowing as to be expected on a Sony mirrorless, but it's really all about speed, speed and more speed.
3. Sony a7RIV | LATEST SONY CAMERA RELEASE
See More Reviews Editor's Choice
Size: 127 x 96 x 74 mm (5 x 3.78 x 2.91″)
Weight: 657 g (1.45 lb / 23.17 oz)
Sensor: BSI CMOS Full frame
Megapixels: 61
Pros 61-megapixel resolution
15 stops of enhanced dynamic range
5-axis image stabilization
Excellent autofocus performance
Real-time Eye-AF in video mode
Exceptional buffering
High resolution viewfinder
Excellent subject tracking Cons Expensive
Limited touchscreen functionality
Massive file sizes
The world's first ever full frame camera with 61 mega pixels of resolution, all packed into a modern, compact body.
This being the most recently announced Sony Alpha camera in 2022, you better expect some superlatives and world-class stats, so here they come…
The Sony a7RIV is the world's first 35mm full frame camera with a… wait for it… 61 MP image sensor!
Expect to see a frankly incredible 15 stops of enhanced dynamic range, 10 fps continous AF/AE tracking, 567 phase-detection AF points, real time tracking and Eye AF, 5-axis image stabilization, and all the other customization bits and bobs we've come to expect as Sony shooters.
Let's forget all the other features for a moment, impressive as they are, and focus on what's really on offer here – a compact (-ish) full frame mirrorless camera with the shooting performance of a machine gun and 61 mega pixel files!
That's medium-format-level image quality, combined with all the auto-focus performance of a top mirrorless camera! You're able to shoot around seventy of these huge RAW files before the buffer takes a breather!
Admittedly, the Sony a7RIV will only appeal to a very small market – those in need of a ridiculously detailed image, and those who shoot in small enough volume to be able to edit them.
I'm talking about professional landscape photographers, advertising photographers and the like…
You definitely won't be seeing any wedding or sports shooters wielding one of these bad boys, despite the allure of being able to crop to your heart's content on the files – it'd be like having an instant 'zoom feature' in post-production!
Customising one of the buttons on the Sony a7RIV to act as an APS-C crop (something I highly recommend you do), you'll still be getting 26.2 MP in stunning high resolution.
The APS-C crop function means that you can shoot all day with a 35mm lens, then at the press of a button, switch to an equivalent 50mm length and still be able to have files akin to those coming out the a7III! Now that's incredible.
Also, imagine what you'll be able to do in post-production with one of these files!! 15 stops of dynamic range and that many megapixels will mean some serious pixel-shifting, with no need to shoot another HDR exposure bracket for as long as you live…
Another world first for the Sony alpha range is the ability to use Real-time Eye-AF in movie record mode – as with stills shooting, the eye of a subject is automatically tracked with impressive precision and reliability, allowing you to focus on the content itself as opposed to what's in focus or not.
The upgraded focusing system of the Sony a7RIV is made up of 567 focal-plane phase-detection AF points and 425 contrast AF points that cover approximately 74% of the image area.
The higher AF sensor density and refined tracking algorithms of the new camera produce a notable improvement in tracking performance, allowing complex subject motion and sudden subject movements to be reliably tracked with greater precision than ever before.
The Sony a7RIV also includes Sony's highest resolution viewfinder ever – a 5.76 million dot UXGA OLED Tru-finder EVF. This is about 1.6x the resolution of the EVF in its predecessor, which I have to say, already left very little room for complaint.
Another incredible feature of the a7RIV is the evolved Pixel Shift Multi Shooting mode, which composites up to 16 full-res images to combine it into one gargantuan detail beast, with a level of detail and colour accuracy that will leave your jaw on the floor.
I probably should have said this earlier before you got too excited, but the down side of all this is obviously the price – at over a grand more than the a7RIII (see latest price here), this is definitely a camera for a certain breed of photographer, who won't settle for anything less.
That said, if you've got the moolah, or are a professional who can subsidise it by offering even more detailed/bigger files to your clients, it could be a great decision.
Who should buy the Sony A7RIV?
Anyone with a fat wallet who requires medium-format levels of detail in the most modern camera body currently produced.
This is a camera so powerful that it's wasted on a static subject – studio photographers shooting models in action, advertising photographers needing to capture fast-moving athletes etc – you know who you are.
4. Sony a7RIII
See More Reviews Editor's Choice
Size: 127 x 96 x 74 mm (5 x 3.78 x 2.91″)
Weight: 657 g (1.45 lb / 23.17 oz)
Sensor: BSI CMOS Full frame
Megapixels: 42
Pros Great resolution
Dual SD card slots
3-axis tilting LCD
Excellent autofocus
Class-leading image quality
Great low-light capabilities
Extremely customizable
10 fps continuous shooting
Good WiFi + NFC Cons Substandard write speed
Modes locked during buffer
Questionable ergonomics
Only 1 UHS-II compatible card slot
AF point hard to see
High-resolution beast of a camera with great image quality, fast burst shooting, high quality 4k, all in a relatively compact body.
This was the first Sony mirrorless camera I ever bought and marked the end of my 10 year love affair with DSLRs.
Despite it being a popular camera with wedding photographers like me, the Sony a7RIII (review) has really drawn the attention of the landscape and studio photographer crowd, and for one big reason – that enormous megapixel count.
(Ignore the fact that there's a newer version of this camera with an even bigger mega pixel count for a moment, as the a7R III is definitely still relevant in `2022, not to mention considerably cheaper.)
Everything revolves around a full-frame 42.4MP Exmor R BSI CMOS sensor and updated BIONZ X image processor, that manages to crank out an impressive 10 fps continuous shooting rate for around 28 uncompressed 14-bit RAW files (76 high-res JPEG).
This means you'll be able to squeeze off 7.6 seconds and 2.8 seconds of full resolution files before the buffer gives up the ghost – it may not sound like much, but remember we're talking about a quick succession of 42.4 MP files here.
Compared to its predecessor, the Sony a7RIII can auto focus twice as fast in low-light situations and do tracking and that legendary eye AG twice as effectively too.
All I know is that before the release of the a7RIII, I never would have considered switching from my trust DSLRs – the mirrorless format simply wasn't good enough yet.
However, with the Sony a7RIII, everything changed. Not only were you getting enormous files with an unprecedented level of detail and dynamic range, but also blazing fast burst mode and auto-focus/auto-exposure adjustment that could keep up with those ridiculously expensive flagship DSLRs.
Photographing people with the a7RIII (or any of the Sony mirrorless cameras for that matter) is a piece of cake. Real-time autofocus and eye-AF mean deliver the clairvoyant-like ability for the camera to know where you need to focus, even before you do.
At a wedding, where previously I'd be crossing my fingers that the AF would capture my subject and not the object in front of it, or chasing it around the screen with a single AF point, the Sony a7RIII made things SO much easier – all I needed to do was to compose the image, then let the camera take care of the focus.
I'm speaking in the past tense here, since as you may have guessed, I'm no longer using the Sony a7RIII, having 'downgraded' to the Sony a7III.
Why? Well, those 42.3 mega-pixel files simply weren't suited to my workflow. Although I don't consider myself particularly 'trigger-happy', my ageing Macbook Pro struggled to process the huge files after an average wedding, and my post-production speeds suffered.
Because of this, I wouldn't recommend the Sony a7RIII to wedding shooters or any photographer shooting high volumes… unless of course you have a great computer set up.
I do miss the ability to crop in to a photo and still have more than enough mega pixels to deliver it to a client for their wedding album, but overall, I'm happy with the smaller files of the a7III.
The Sony a7RIII offers all the mod-cons we've come to expect with a Sony camera – touch screen, long-life battery, numerous memory recalls, two card slots, fast-refreshing EVF, 425 contrast AF points, in-camera 5-axis stabilization, uncompressed 4k HDMI video output and more.
It also offers some of the best dynamic range I've seen out of a Sony camera – being able to recover stop upon stop of highlight and shadow is incredibly liberating, especially when you don't have time to nail exposure out in the field – it's like a lifeline in post production.
Image quality and build quality is excellent – this goes without saying. Everyone's used to this with Sony cameras after all.
All in all, the Sony a7RIII is another beast of a camera, most notably for the immense level of detail that can be captured so effortlessly.
Despite the release of its successor, I can still see this camera being the favourite of mega-pixel-hungry photographers for years to come.
Who should buy the Sony A7RIII?
If you want to capture files with more detail than any other camera in this price range with very little effort, and have the computer hardware grunt to process the files, look no further than the Sony a7RIII.
I'd recommend it to landscape photographers, architecture photographers and basically anyone shooting commercially or needing tonnes of detail in their photos.
5. Sony a6400
See More Reviews Editor's Choice
Size: 120 x 67 x 60 mm (4.72 x 2.64 x 2.36″)
Weight: 403 g (0.89 lb / 14.22 oz)
Sensor: CMOS APS-C
Megapixels: 24
Pros 11 fps burst rate
Front facing LCD
Excellent auto focus
Great image quality
Improved low-light capabilities
Extremely customizable
Weather-sealed
Good battery life
Built-in bounceable flash
Good Wifi/NFC Cons Questionable ergonomics
Odd tilting LCD implementation
No IBIS
Only 1 UHS-1 card slot
Slow buffer clearance
Universally capable APS-C format compact camera with great image quality, fast performance and a front facing LCD screen.
The Sony a6xxx range of APS-C sensor mirrorless cameras has been a favourite of a great many photographers the world over, ever since the release of the a6000 way back in 2014 (Related: Sony Alpha a6000 lenses).
Since then, every release of a new a6xx body has seen some relatively small set of feature updates, typical of a camera that's been updated so frequently. Despite the recent release of the Sony a6100 (review) and the a6600 cameras, I still believe the a6400 offers the best bang for the buck.
With the a6400, what has Sony brought to the table this time? Is it just a vlogging camera, or is there something there for us stills shooters too? I spent 2 months shooting with it to find out…
First off, everything revolves around a glorious 24.2-megapixel Exmor CMOS sensor, which provides a an impressive ISO sensitivity range and excellent low-noise performance, especially for APS-C standards.
I was able to shoot comfortably at ISO 800 all night long and still obtain clean files and accurate colours.
Thanks to a front-end LSI and the latest BIONZ X image processor, Sony claims processing speeds that are 1.8x faster on the Sony a6400 when compared to its predecessors.
In practice, this means a faster buffer, allowing it to keep shooting 11fps for 46 RAW+JPG, 49 RAW, or 114 JPG – that's pretty impressive when you consider everything's kept in pin-sharp focus thanks to real time Eye AF.
One down side though is the sluggish buffer performance – during testing, the buffer took around 40 seconds to clear 49 shots in burst mod, even with a fast memory card.
The Sony a6400 boasts a much improved build quality, with the standout feature being a touch enabled, 180 degree rotating LCD screen – much to the delight of vloggers and anyone who likes to take selfies!
There are surprisingly few cameras that offer a front-facing LCD screen, but the a6400 handles this relatively well, as long as you don't need to mount a hot-shoe mic, since the screen prevents you from doing this without a cage of some sort.
The 425 phase-detects points combined with that Real-time Eye AF (which even works on animals), and Real-time tracking for moving subjects has been dribbled down from the a6400's full frame big brothers, and works pretty damn well indeed.
Sony really does make it much easier for photographers who shoot moving subjects, allowing the camera's settings to get out of the way of capturing the image you want. – you just point… and shoot.
A big draw-card of the Sony a6400 over the other full frame mirrorless cameras in the range is its compact size – choose your lens wisely, and you'll be able the slide the whole thing in your jacket pocket, with less than half the weight of some of the bulkier options.
As for lenses to use with the Sony a6400, I always tend to recommend small, lightweight primes over zooms – impressive as they are.
Something like the FE 28mm f/2, despite it being meant for a full frame sensor, performs admirably on the a6400, offering a versatile 35mm-ish field of view.
If you want to stick to more affordable Sony e-mount lenses that have been made for the APS-C sensor, there's a whole host of great ones available, all of which pair nicely with the a6400 – just choose wisely to avoid unbalancing your camera body.
Price-wise, the Sony a6400 is definitely a premium crop sensor camera, but in my opinion it could actually be priced more even higher on the impressive features included.
As is typical with Sony cameras, there are tons of features somewhat hidden in the confusing menu, but when you have the a6400 set up as you want, you can use the camera buttons and dials most of the time.
I also really enjoyed being able to focus and shoot just by touching the screen – perfect for remaining inconspicuous while shooting 'from the hip'.
Is the a6400 better than the a6500? Yes – see the comparison here. Is it better value than the a6600? Yep. Is it worth twice the price of the a6000? Definitely. I named it the best travel camera of the year, and believe that whether you intend to travel with it or not, it's a great value for money product.
Who should buy the Sony a6400?
If you're a fan of the smaller APS-C format camera dimensions but still keen to use all those amazing Sony lenses, this is currently the best on offer. It makes a great everyday camera, or 'backup body' for those using one of the full frame Sony's as their main workhorse.
6. Sony RX100 VI
See More Reviews Editor's Choice
Size: 102 x 58 x 43 mm (4.02 x 2.28 x 1.69″)
Weight: 301 g (0.66 lb / 10.62 oz)
Sensor: BSI CMOS 1″
Megapixels: 20
Pros Wide-long focal range
24 fps shooting
Front facing LCD
Excellent autofocus
Good image quality
Popup viewfinder
Impressive dynamic range Cons Poor ergonomics
Confusing AF system
Slower lens than predecessor
No external mic input
Truly pocketable compact camera with an incredible feature set, including a 24-200mm retractable zoom lens.
This is the camera I chose as the best compact camera of the year, and I recommend it to pretty much everyone I meet who's looking for something powerful and pocketable.
The term 'compact' or 'point-and-shoot' is a little vague, but no one can argue that the dimensions of the Sony RX100 VI (review) doesn't put it in the realm of a pocket-sized camera – it's so small in fact, that you can keep it in the pocket of your jeans!
The Sony RX100 series is something of an obsession for Sony enthusiasts who want excellent imaging performance out of something the size of a pack of playing cards.
Now on the 6th iteration, Sony has pulled out all the stops to create what many consider to be the ultimate compact camera with the RX100 VI.
Top of the long list of features is a truly magnificent 8x zoom lens, with an equivalent focal range of 24-200mm and a variable aperture of f/2.8~4.5.
What this means is that you can be standing comfortably on a beach shooting wide at 24mm to encompass all the elements of your environment, then at the hold of a button, be shooting the surfers out on the waves.
If you've ever shot with a 70-200mm lens, or even a 24-70mm for that matter, you'll appreciate just how big and heavy they are. To have all this focal range at your disposal, then to have it all sucked back up inside the camera body really is impressive.
While some owners of its predecessor may miss the f/1.8 maximum aperture (shunned in favour of more reach on the lens), shooting at 200mm and f/4 yields some great bokeh.
I particularly love the fact that your subject is always unaware of your presence during the shot, due to the distance you can place in between.
Auto focus performance is what we've come to expect with high end Sony cameras. Coupled with the latest 'Real Time Eye AF' functionality which searches for eyes and faces whenever there's a subject in scene, capturing people/animals in motion with the Sony RX100 VI is simple and efficient.
Whether you usually shoot video or not, you'll have a lot of fun playing with this camera's high frame rate 'HFR' mode, which lets you shoot short snippets, then play them back at 1,000fps for some amazing super slow motion footage.
As for stills, you can rattle off an insane 24 fps for 110 RAWS (or about 220 full res JPEGs) before the buffer slows you down. TWENTY-FOUR frames per second! Come on guys – that's like shooting a movie!
Image quality is excellent, with everything handled by a 1 inch, 20.1MP Exmor RS Stacked BSI-CMOS sensor – the same one found in the previous 2 models of the RX100 series.
ISO looks good all the way up 1600, then degrades slowly to 3200, and much faster after that when you reach the limits of the sensor's capabilities.
As for dynamic range, you can expect to pull/push around 4 stops in post, as long as you keep the ISO as low as possible.
The pop up viewfinder seems a bit gimmicky at first, but can actually get you our of trouble on a sunny day. I also like the way that pushing it back into the camera body can turn off the camera and retract the zoom lens.
You can read more about this impressive little camera in my full review, but suffice to say, if you're willing to shell out the handsome sum for it, you won't be disappointed.
Who should buy the Sony RX100 VI?
Anyone who needs a tiny camera with an impressive feature set, including above all, a 24-200mm equivalent zoom lens to get you much closer to where you want to shoot, without having to use your legs!
7. Sony RX1R II
See More Reviews Editor's Choice
Size: 113 x 65 x 72 mm (4.45 x 2.56 x 2.83″)
Weight: 507 g (1.12 lb / 17.88 oz)
Sensor: BSI CMOS Full frame
Megapixels:44
Pros Fun to use
42 MP with excellent image quality
Tilting LCD
Fast, sharp 35mm lens
Excellent AF
Excellent low light performance
Attractive design
Pop up EVF
Good Wifi/NFC Cons Poor battery life
Questionable ergonomics
No touchscreen
No weather-sealing
Expensive
The world's smallest full frame camera, with a razor-sharp fixed lens attached to a quirky body housing an impressive 42MP sensor.
Let's get the elephant in the room out the way first – the Sony RX1R II is an expensive compact camera.
Its current price (check here) means that it's in the realms of professionals looking for a smaller full frame camera to complement their main workhorse, or the wealthy amateur who needs a travel camera with incredible performance.
If you're one of these people, keep reading, as this is one camera that you definitely need to hear about…
Released way back in October 2015, the Sony RX1R II is one of the few full frame compact cameras in existence ones with a 35mm sensor).
It's a camera you can slip into a coat pocket that offers unrivaled image quality – beautifully shallow depth of field, amazing dynamic range, great high ISO performance… basically image quality that's superior to 99% of other compact cameras.
You do pay a pretty price for it, though. Squeezing a big sensor into a small camera body still costs a lot for manufacturers, and due to the nature of the 35mm sensor size, the lens needs to be a certain size to accommodate – while compact, this still isn't a camera for your jeans pocket.
The RX1R II is a bit of an anomaly in the Sony camera line up in 2022. After all, you can buy a more versatile full frame inter-changeable lens camera for less than the price of the Sony RX1R II, so why on earth would you invest in this one?
I spent a few weeks shooting with it to find out, and was surprised to come to the conclusion that the RX1R II turned out to be my favourite camera in the range!
A combination of stellar image quality and a rather endearing, clunky, tactile body, means that this is a Sony camera that begs to be picked up – dare I say it, it's got those lust-worthy 'Fujifilm ergonomics', while still managing to house a sensor much bigger than APS-C.
The Sony RX1 RII offers most of the functions of a high end mirrorless camera that you'd expect – tilting LCD screen (though no touchscreen), good WiFi/NFC connectivity, decent EVF (that retracts into the body when not in use), customisable dials/buttons and a dedicated exposure compensation dial.
Build quality is excellent, and dials and switches are reassuringly solid-feeling The on/off switch is reminiscent of an old range-finder, and far more satisfying than pushing a button, which is the usual way to fire up most compact cameras.
Start up time is a little sub-standard though, as is usability in general. Zooming in 1:1 is a painful experience, due to the 42.4 Mega Pixels, so that's understandable. Buttons feel slightly mushy and unresponsive at times too.
Auto Focus is good, and includes Sony's enviable Eye AF, though not nearly as good as the Sony a7/a9 series.
5 fps is sub-par in 2022, but this definitely isn't a camera designed for fast action…
I shot the Sony RX1 RII on auto white balance, and skin tones looked great. I actually prefer the colours out of this than other high end Sony MILCs – this might be something to do with its amazing low pass filter, which helps deliver such stellar image quality.
The razor sharp fixed 35mm f/2 lens is perfectly paired to the full frame sensor, offering incredible performance whether shot wide open or stopped down.
Many will wonder why Sony decided to make this a fixed-lens camera, but in my mind, it was a great decision.
Limiting yourself to just one lens can be a real moment of clarity as a photographer, encouraging you to get used to a single focal length, until you're able to view the scene well before you lift the viewfinder to your eye.
Without the temptation of the impressive Sony lens lineup to choose from, you're left to enjoy, and eventually benefit from the limitations of the RX1R II.
The Sony RX1 RII doesn't make much sense on paper… but it's still a surprisingly enjoyable camera to shoot that will bring you joy every time you pick it up, not to mention whenever you view the gorgeous high-resolution files on your computer screen.
Who should buy the Sony RX1R II?
I'd recommend this endearing camera to any professional or serious amateur photographer, no matter what brand you usually shoot with. It's a Sony camera like no other Sony camera – truly unique in the line up.
Despite its high price point and slightly aging feature-set, the Sony RX1R II is a camera for enthusiasts who place value in modern performance in a retro-inspired body.
Sony Camera Buyer's Guide
If you want a short version of the reviews below, here are my recommendations of what Sony camera body to invest in: