The Samsung 305V5A-A04's unusual white case divided opinion in the office. Some saw it as just another budget white laptop, while others saw the unusual matt white plastic, metallic panels and sharp lines as an interesting departure for Samsung, which is better known for smooth curves and blended colours. It certainly has something retro about it.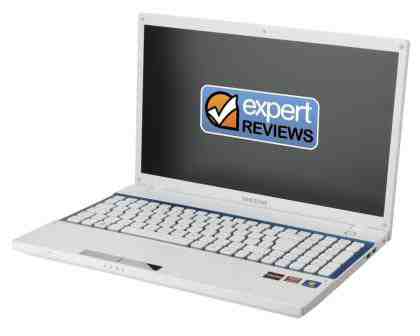 It isn't just the 305V5A-A04's design that's unique. It's one of the few laptops we've seen recently to use AMD's Vision platform (a combination of an AMD A6 processor and Radeon HD graphics chip), which is backed up by 6GB of RAM and a generous 750GB hard disk. Sadly, the quad-core A6 didn't fare well in our benchmarks, with an Overall score of just 40. While this is still powerful enough for most people's everyday computing needs, some Intel-powered budget models are twice as powerful.
Graphics performance is far better, and the 305V5A-A04 scored 26fps in our Dirt3 benchmark. Turning off AA produced a more playable 29fps and, as long as you're willing to sacrifice some graphical 'eye candy', you should be able to run most games at playable frame rates, although more intense action games, such as first-person shooters, may prove too much for it.
Sadly, the best efforts of the graphics card aren't translated well by the screen, which has a dull, uneven backlight with painfully obvious dark areas along its top and bottom edges. It also has a matt finish, which is unusual for a consumer laptop, and although this does reduce glare from overhead lights, it also diffuses the colours on screen, making them lose impact. The overall result is washed out, inaccurate colours and awful contrast.

That's a shame, because the 305V5A-A04 has some great features. Its keyboard is firm, well laid out, and each key has a light, crisp action. Our only complaint would be that the keys have flat tops and slight wobble can cause the occasional slip. There's a numberpad to the right of the main keyboard and a massive touchpad below it, which has two large buttons set close to the edge of the case where your thumb naturally rests.