For our most up-to-date PS Vita news and coverage, make sure to check out our Vita News Hub .
The Tetris effect. It's a real thing - go and look it up - it's what happens to your brain when you spend enough time and attention on an activity that it begins to take over your thoughts and dreams. You'll be in real danger of succumbing to the effect if you spend more than a few hours playing Lumines: Electronic Symphony. It's the devilishly addictive sequel to one of the PSP's best games, updated with higher resolution graphics for the PS Vita's OLED display.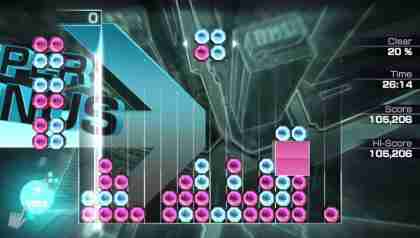 If you aren't familiar with the original, or any of its console re-releases, it only takes a minute to learn the simple gameplay mechanics. You control the descent of an unlimited supply of 2x2 blocks arranged in different colour combinations. Like Tetris, if these blocks reach the top of the screen it's game over, so you have to delete them as quickly as possible.
The aim of the game is to create squares, rather than lines. You can rotate each block to match it with the others already on the play grid, and when a 2x2 square of matching colour is formed the horizontal line that travels across the screen, wiping out created squares to make room for more.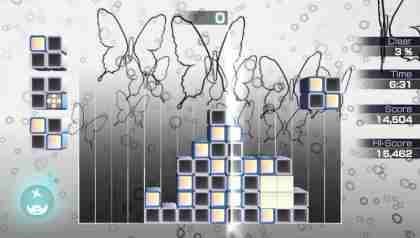 This all sounds fairly simple, but the magic lies in how the developer has combined music and visuals into the gameplay. Rather than one looping backing track, Lumines has a whole album of remixes and original tracks that merge into one another as you play. The colour patterns and background graphics also change once you reach a certain score - even a subtle change in colour can be enough to through you off your perfect game, so you have to keep alert when the screen begins to shift.
The line that deletes your completed squares also travels at a faster or slower pace depending on the tempo of the track. Slower songs mean a slower line, so you have the potential to create more squares per phase, increasing your score with bonus multipliers. Conversely, a faster track means your supply of squares begins to drop faster, forcing you to keep up to avoid wiping out.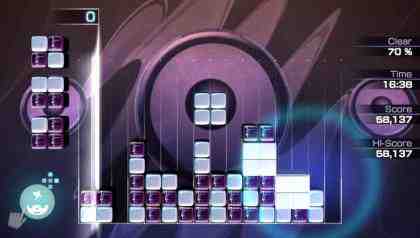 Even if you're a Lumines veteran, you'll appreciate the huge number of new skins and music that haven't been seen before on previous versions. The whole soundtrack is incredibly varied, ranging from the esoteric to more well-known mainstream artists, but it flows neatly between tracks and there are very few damp squibs. With so many skin flavours to uncover, it really brings the vivid colours of the Vita's OLED screen really come into their own.