Why This Pro is (sort of) Switching from Canon to Sony
A Post By: Suzi Pratt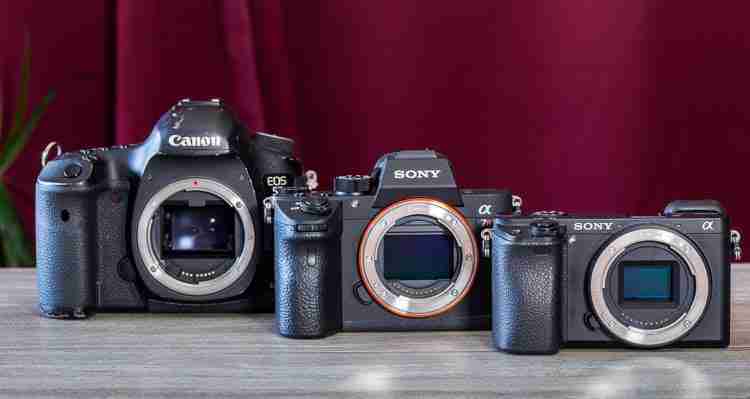 Throughout the internet, there are quite a few photographers trading in their DSLRs for shiny new mirrorless cameras. I never thought I'd join the crew switching from Canon to Sony, telling myself that it's not the bells and whistles of brand new cameras that define a photographer's abilities. That all changed when I took the plunge and ordered a Sony A7RIII.
After having it for about a month, I've fallen head over heels in love with this camera and use it almost as much as my Canon DSLRs. However, I'm not giving up on Canon yet. In this article, I'll shed some light on why I'm straddling the Canon-Sony lines, and how my experience with Sony has been so far.
My History of Cameras
I'll start off by admitting that I've never been much of a camera brand loyalist, to begin with. My first digital camera (I never shot film) was a Nikon D40. I played in the Nikon world for several years, eventually ending up with a Nikon D700, and host of accompanying Nikkor lenses.
In 2012, I traded in my Nikon gear for the Canon 5D Mark III and 6D, intending to dive into the video and filmmaking world. While that Canon has hardly been utilized for video, it has built my entire professional photography portfolio in the past 6 years. I haven't bought a full-frame camera since then.
In 2015, I embarked on a month-long backpacking trip to Asia, which sparked my purchase of a Sony a6300. This dipped my toes into the Sony world, and although it took a lot of adjusting, I quickly fell in love with my little mirrorless camera.
It was much smaller than my DSLRs, image quality was on par, 4K video quality was exceptional, and the extra features such as face detect, eye autofocus, focus peaking, and more felt sci-fi compared to my Canons.
Fast forward to this year, when I've ramped up video production and am making as many videos as I am photos, and it just made sense to upgrade to the full-frame Sony A7RIII.
What I Love About Sony Cameras
Eye Autofocus
You'll never have another excuse for taking an out-of-focus portrait again when using a Sony camera. Their eye autofocus is fast, accurate, and very hard to live without once you've gotten used to it. Pair it with face detection, and you have the perfect camera for photographing anything with people in the scene.
A Truly Silent Shutter
When I first started shooting with the Sony a6300, I marveled at the silent shutter mode that helps you shoot candid shots much more stealthily. Canon has a Silent Shooting mode that is definitely quieter than normal, but hardly without noise. Sony silent shutters are truly silent, which can be very important while shooting in live performance venues or in areas where the extra noise is frowned upon.
The Electronic Viewfinder (EVF)
Like most mirrorless cameras, the Sony A7rIII comes with an electronic viewfinder. Compared to DSLRs that use optical viewfinders (OVF) unless you're shooting via live view, an EVF gives you a real-time preview of the image you're capturing.
Generally speaking, I love the EVF for crafting and composing better images in-camera, but I do wish for the option to switch between EVF and OVF. This especially comes into play when photographing concerts with heavy LED lighting that can almost wash out the EVF and make it difficult to compose images.
Sony PlayMemories App
It's far from perfect, but the Sony PlayMemories app and its ability to quickly transfer images from the camera to a smartphone via a QR code is genius. This approach is much easier and reliable than Canon's Wi-Fi transfer system.
Sony also used to include PlayMemories apps that could be installed in-camera, such as a time-lapse feature. For unknown reasons, Sony removed these apps from the Sony A7rIII and A7III. Hopefully, they are restored in a future firmware update as these apps were incredibly handy.
The Camera Can be Powered Internally via USB
The ability to charge my camera by simply plugging it into a wall or external battery pack has been a lifesaver. This is handy not only if you happen to forget your external battery charger, but also for powering your camera through any extra-long photo (like time-lapse) or video sessions.
What I Miss from Canon Cameras
Ability to Shoot Smaller RAW Files
A feature I use quite frequently on my Canon cameras is the ability to shoot smaller RAW file sizes (M-RAW, S-RAW). This gives you all of the advantages of a RAW file but in a smaller file size.
Unfortunately, this is a feature that Sony cameras don't offer. It would be especially helpful to have on the Sony A7RIII, whose uncompressed RAW files are 81.9 MB apiece. The only way to decrease this size is to shoot compressed RAW files (about 41.0 MB each) or shoot in JPG.
Needless to say, I've purchased two more external hard drives since I started shooting with the A7rIII.
Straightforward Features and Settings
Sony cameras, like Adobe Photoshop, are jam-packed with features. This can be either a blessing or a burden when you're just trying to take a simple photo or video. More often than not, I find myself fumbling around with Sony's menus and settings just to snap a quick photo.
Yes, you can customize buttons and menus to your liking. But it can get confusing when you have to choose between six focus modes and six focus areas at any given moment. In comparison, cameras like Canon DSLRs and even Fujifilm mirrorless cameras seem much simpler to operate.
Consistent Colors
Many photographers are quick to criticize the colors of Sony cameras, claiming that Canon has a much better color science. I tend to agree with the critics.
In general, photos taken with both my Sony a6300 and A7RIII have pretty good colors. But occasionally (usually when shooting indoors with artificial lighting), both cameras process colors oddly. This can usually be corrected in post-production, but compared to my Canon DSLRs that nail colors almost every time in a variety of conditions, this can be frustrating.
Why I'm Not Leaving Canon Just Yet
Even though I own two Sony cameras, I'm not fully giving up on Canon just yet. Here's why.
Sony Lenses Aren't Cheap
Across the board, Sony lenses tend to be several hundred dollars more expensive than their Canon equivalents. Even if I traded in or sold all of my Canon gear, it would take a significant investment to buy into the Sony G-Master line of lenses.
My compromise in the meantime has been a mixed bag. I sold half of my Canon lenses (mostly prime lenses that I never used anyway), purchased a few mid-range, all-purpose Sony lenses the 24-105mm f/4), and invested in a Metabones V adapter (more on that below).
My Remaining Canon Gear is Hard to Sell
I've historically been very hard on my Canon DSLRs, and both show significant wear and tear. Trade-in and resell values for both of my DSLRs and remaining Canon lenses aren't great. How many people do you see switching to Canon these days? In the meantime, I'm inclined to keep and use my Canon gear for now and wait and see what happens. After all…
A Canon Full-Frame Mirrorless Camera is Coming Soon
Photography news sites are abuzz that both Canon and Nikon may soon release full-frame mirrorless cameras. It's hard to say how good these cameras will be, and if they will use EF and EF-S lenses, or a whole new lens mount. But I'm hanging on to the hope that Canon can get its act together and compete in the mirrorless world.
Two Things Worth Mentioning
Sony Batteries Have Improved Greatly
Mirrorless cameras have long been criticized for poor battery life. This is certainly true for my a6300, which usually lasts for about 350-400 shots per battery.
However, Sony introduced the brand new NP-FZ100 battery to both the Sony A9, A7rIII and the A7III. More robust in build, this battery powers your camera for up to 530-650 shots or a little under 2 hours of video recording time.
In practice, I find that these new batteries last much longer and are almost on par with Canon DSLR batteries.
Sony-Canon Lens Mount Adapter Works – Sort of
There are several lens adapters which will let you mount Canon lenses to Sony cameras. The most popular adapters are the Sigma MC-11 Mount Converter ($199.00) and the Metabones V adapter ($399.00).
I've been using the Metabones V adapter to put my Canon lenses on the A7rIII and a6300. The adapter works most of the time with fast and accurate autofocus, and even eye autofocus works extremely well.
However, there are moments when my camera will simply freeze right after focusing on an object. This is easily corrected by simply switching the camera off and back on, but it seems to be a problem with the adapter. So far, this is the only real problem I've seen while using a lens adapter.
Canon lenses that work on my Sony cameras with the Metabones V adapter:
Canon 16-35mm f/2.8 II
Canon 24-70m f/2.8 II
Canon 70-200mm f/2.8 II
Canon 50mm f/1.8
Canon 35mm f/1.4
Canon 85mm f/1.8
Canon 100mm f/2.8 macro
In Conclusion
As a photographer charging into the world of videography, it made sense to start shifting away from Canon into the realm of Sony. Since getting the Sony A7rIII, I've seen a huge uptick in the quality of my videos and photos. However, I'm also hoping that Canon will soon release a competitive mirrorless camera that meets the video and photo needs of today's creatives.
Have you made the switch to mirrorless cameras yet? If so which brand and model did you decide on and why? What's your take?
Canon vs. Sony: Which Brand Is Better for New Videographers? — deardarlingfilms.ca
There's no such thing as the perfect camera — only the perfect camera for the type of work that you do.
If you're just starting out in videography and have reached out to me for camera recommendations, chances are that I recommended a Canon or Sony camera.
There are tons of great camera brands out there, but as a beginner, I would recommend sticking to either Canon or Sony because just like Honda Civics, both brands:
Have been in the videography game for decades Are commonplace, which means that fixing or replacing spare parts is much easier Produce a great final product
Just like how you wouldn't compare a Honda Civic to a Ferrari, there's no use in comparing Canon or Sony DSLRs to an Arri cinema camera — they're two completely different products with completely different consumer needs!
If you're new to video creation and are looking to invest in your first-ever camera, you're in the right place! Below I outline the pros and cons of Canon and Sony cameras to give you some insight on which brand might be best for the work that you plan to do.
Canon:
Pros:
Great colour science, so your colours look great straight out of the camera. Their lens collection is more established and has far more options to choose from. Canon lenses typically cost less than Sony lenses. If you decide later down the road to switch to Sony, you can use your Canon lenses on Sony camera bodies! Most of their gear is weather sealed, making it a good option for documentary shooters who spend a lot of time outside in the elements. Great battery life. Super reliable cameras that won't shut off mid-recording. Screens and buttons are easy to use and understand. They are leading the industry with their autofocus capabilities.
Cons:
Don't have a ton of mirrorless camera options/budget options for beginners. Don't have the best low light capabilities. Most of their cameras don't have in-body stabilization yet. Canon has been slow to innovate and has been investing primarily in their cinema line, which is far too expensive for new videographers.
My recommended "starter" camera (Canon)
My recommended "intermediate" mirrorless camera (Canon)
Sony:
Pros:
Great low-light capabilities and in-body stabilization. Small and compact, making them easy to travel with. Have tons of affordable camera options for beginners. Sony has been incredibly innovative over the last few years and has been releasing better cameras every single year.
Cons:
Colours require a little bit more work in editing to achieve good skin tones and true-to-life colour. Lenses are far more expensive than Canon, and aren't often compatible with cameras from other brands. If you choose to switch to Canon cameras later down the road, you will not be able to use your Sony lenses on your new cameras. Sony cameras have a tendency to overheat in high temperatures, and have been known to shut off mid-recording if overheated. Battery life isn't great, which means you'll have to invest in tons of extra batteries if you plan on doing longer shoots. Screen layouts and buttons are not very intuitive and require a bit of time to get used to. Autofocus capabilities are improving (especially in their mirrorless cameras), but Canon still reigns.
My recommended "starter" camera (Sony)
My recommended "intermediate" mirrorless camera (Sony)
That said, you might be a Canon shooter if:
You already own several Canon lenses You require weather-sealed video equipment for outdoor shoots You have have limited experience with colour grading You use tripods and monopods for the work that you do
You might be a Sony shooter if:
You're on a budget
You shoot video in low-light conditions
You prefer shooting handheld over using tripods or monopods
You're looking for a camera that is compact and can easily be taken with you on shoots, while travelling, etc.
So what do you think? Are you #TeamCanon or #TeamSony? Let me know in the comments!
Canon mirrorless versus Sony?
Now that we have near-Biden levels of free cash to spend (rent in Florida is cheaper than property tax plus lawn mowing in Maskachusetts and our neighborhood has a lot more to offer, especially for kids, than where we used to live), it is time to upgrade the household camera bodies. I have a few Sony lenses, both for full-frame and APS-C. I have lots of Canon EOS lenses, but they're for the traditional SLRs, not for the new RF mount (which can use the old lenses via an adapter, e.g., when it is time to take pictures of birds).
Sony's sensors were so much better than Canon's for so long that I stopped using Canon, but DXOMARK says that the EOS R5 is competitive with Sony (14.6 stops of dynamic range, compare to 13.6 for the EOS 5D IV (2016), 11.7 for the EOS 5D III (2012), and 14.5 for the Sony A1).
Tony and Chelsea Northrup found that the Canon delivered a higher percentage of usable images of moving subjects than the Sony A1, which has a faster frame rate and costs more. The test might not have been fair, though, because of differences in lenses used, adapters, etc.
A friend loves his Nikon Z system (#SonySensorsInside), but I don't have any Nikon lenses or bodies, so I'd like to stick with Sony or Canon.
Anyone here played around with the Canon R5 or the Sony A1? I'm leaning toward the Canon because it is cheaper, will let me use the legacy specialized lenses, and I never made peace with the Sony interface and software. On the other hand, Sony seems to be a lot more devoted to this market than Canon, which can't even be bothered to ship a conventional SLR body with a decent sensor (last upgrade to the EOS 5D was five years ago!). I don't see how, in the long run, the market can be big enough for more than one company and Sony's annual revenues are $81 billion versus only about $30 billion for Canon. Combine the difference in financial resources with Sony's demonstrated passion to take the market away from Canon and I think Sony is the better long-term bet.
Related: