Best VR headset 2022: The best wired and wireless virtual reality headsets for all budgets
Looking to spice up your gaming life with one of the best VR headsets around? As the VR market continues to expand and the metaverse evolves from confusing concept to (virtual) reality, it's definitely a savvy choice – but choosing the best VR headset for you can be a virtual nightmare. Some premium VR headsets will set you back hundreds, and to even use them you'll need to be tethered to a high-performing PC; On the flip side, there are also VR headsets that cost under £50 and only require a smartphone to run.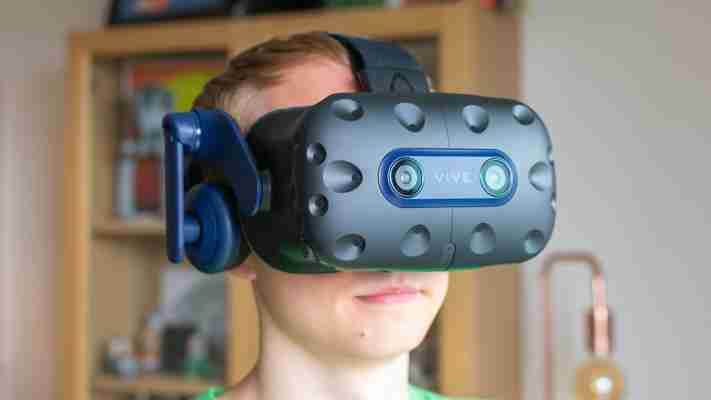 In addition to the luxury VR headsets from big-hitters Oculus (or Meta, as it will henceforth be known), Valve and HTC, there's a slew of lesser-known products from manufacturers like Pimax, Zeiss and even HP. Each year brings new possibilities to the VR market – take the new Oculus/Meta Quest 2, which is currently the best VR headset around (wireless or otherwise). And then there's Sony's PSVR and Nintendo's Labo VR, which brought virtual reality console gaming to the masses.
There are always numerous VR headset releases on the horizon, but this article features the best headsets available right now – plus a handy buying guide to help you choose the right one.
Editor's pick | Oculus/Meta Quest 2 Unless you own a high-end gaming PC, the absolute best way to experience VR is via the magnificent Oculus (now Meta) Quest 2. This portable VR headset is the most accessible way to enjoy the likes of Beat Saber and Superhot we've ever tested. It isn't perfect (you will need a Facebook account to play) but it's the best VR headset for most people. £300 (128GB) | £400 (256GB) Buy Now
How to choose the best VR headset for you
You can find out even more about VR headsets at the bottom of this page. Here are the most important bits.
What type of VR headset should I buy?
That's right: You don't have to spend your life savings on a gaming PC to enjoy VR. Here are the various types of headsets you might want to consider:
PC VR headset: If you already own a gaming PC, a PC VR headset is an obvious choice. You'll have access to Steam's ever-growing library of VR games, alongside the libraries of either Oculus or HTC (if you opt for one of their products).
PC VR headsets offer the best displays in the industry, with high refresh rates and resolutions for a more immersive experience. You will need to check that your PC can run VR games before you buy, however – you can do that using Steam's VR benchmark test.
Mobile VR headset: If you just want something to keep your kids/spouse/colleagues entertained, a mobile VR headset is the way to go. Available from as little as £25, these headsets are really just goggles with weird lenses – you'll need to supply the hardware in the form of a compatible smartphone. Download the relevant app, stuff the phone into the slot behind the lenses and you're ready to go.
Wireless VR headset: Wireless VR is still in its infancy, but that doesn't mean you should discount it – quite the opposite, in fact. It's a bit of a compromise: the visual experience and game library is a tad less impressive than that of PCVR, but you won't need any extra gadgetry to get started. Perfect for newcomers interested in something serious.
Console VR headset: There are VR headsets (or VR experiences) available for both PlayStation and Nintendo fans – if you're an Xbox owner, I'm afraid you're out of luck. You'll find that the type of VR experience is limited by the power of the console; Sony's PSVR is almost as impressive as full-blooded PCVR, where Nintendo's Labo kits are closer to mobile VR. Both are reviewed here.
What specs should I look out for?
Display resolution: VR headset resolutions are measured both as a whole unit, and on a per-eye basis. Modern PCVR headsets tend to have a combined display resolution of at least 2,560 x 1,440, or 1,280 x 1,440 per eye – the higher the resolution, the clearer the image, and the more you will have to pay (usually).
Display type: You won't need to worry too much about this, but for reference, most PCVR manufacturers are moving to fast-switch LCD panels and leaving OLED displays in the dust. This is because OLEDs are expensive, and produce a blurrier image than LCDs.
Refresh rate: This determines how many new images the display can show in a second (measured in Hz). Fundamentally, a high refresh rate means the moving image you're seeing on-screen will appear smoother, and you might therefore feel less nauseous. Expect refresh rates to vary from 70-120Hz.
FOV: Field of Vision – how much of the virtual world you can see when peering into the lenses of your HMD. Most VR headsets have a FOV of around 100-110 degrees, which is just barely enough to make you feel like you're inside the world, rather than just looking at a screen.
READ NEXT: The best controllers to use on PC
The best VR headsets you can buy
1. Oculus/Meta Quest 2: The best (wireless) VR headset
Price: £300 (128GB); £400 (256GB) | Buy now from Amazon
Read no further: the Oculus (now Meta) Quest 2 is the only VR headset you need. It builds upon the unexpected success of the Oculus Quest in pretty much every way, but if we had to pick a stand-out improvement, it would be the £100 Oculus (Meta) has managed to shave off the price.
And that's without compromising on the hardware front. By slotting in a new processor and increasing the available memory, Oculus (Meta – this is getting tiring) has drastically improved the performance of the Quest 2, opening the door for more ambitious VR games. Not that existing titles are left wanting: courtesy of a gorgeous near-4K LCD panel refreshing at a smooth 90Hz, games and other experiences look better than anything we've tested before.
The Quest 2 is also smaller and lighter than its predecessor and uses a fabric strap to stay very firmly attached to your face. Of course, it isn't without faults: adjusting the distance between lenses (to match your eyes) is a fiddly process and, perhaps more contentiously, new users will need to sign in using a Facebook (Meta!!) account – although this is set to change at some point in 2022. To be blunt, this is entirely for the data-tracking benefits, so we urge new users to take a good look at the privacy settings.
If these things don't dissuade you, there's no simpler way to put it: the Quest 2 is the best VR headset around.
Read our full Oculus Quest 2 review for more details
Key specs – Display resolution: 3,664 x 1,920; Display type: Fast-switch LCD; Refresh rate: 90Hz; Field of View: N/A; Supported software: Oculus Home; Dimensions: 191.5 x 102 x 295.5mm; Weight: 503g
2. HTC Vive Pro 2: Virtual reality like no other
Price: £719 (£1,299 for full kit) l Buy now from HTC
It's no surprise that the most expensive VR headset on this list is also the most fully featured. It's not cheap, not by any stretch of the imagination, but the Vive Pro 2 benefits from a handful of exclusive, game-friendly features that you won't find anywhere else.
To begin with, the Vive Pro 2's display is the highest resolution we've ever seen on a commercial VR headset, with a boosted total resolution of 4,896 x 2,448 (2,448 x 2,448 per eye). It also now supports a maximum 120Hz refresh rate, as well as a wider 130-degree FOV. Provided your accompanying PC is powerful enough to meet the minimum spec requirements, then there's absolutely nothing better for virtual reality gaming at the moment. Games like Half-Life: Alyx never looked so good.
The only reason it misses out on taking the top spot is due to its high price. For most, the Quest 2 is good enough, but if you're hoping to push VR to its very limits, then the Vive Pro 2 offers a virtual reality experience unlike any other.
Read our full HTC Vive Pro 2 review for more details
Key specs – Display resolution: 4,896 x 2,448; Display type: Dual RGB low-persistence LCD; Refresh rate: 120Hz; Field of View: 120-degree; Supported software: Viveport, SteamVR; Dimensions: 348 x 194 x 344mm; Weight: 850g
3. PlayStation VR: The best (and only) VR headset for PS4
Price: From £259 | Buy now from Game
If games are your thing, you can't do much better than the PlayStation VR. Anyone with a PlayStation 4 can pick one up and dive straight in, and Sony's headset has a library full of brilliantly fun VR games that offer up short bursts of fun or perfect lengthy playthroughs. It's also the only way to scare yourself silly with Resident Evil 7 in VR.
It's certainly not the most feature-filled headset on the market – especially compared to the HTC Vive or Oculus Rift – but with almost one million sales in its opening months, Sony has clearly got the price-to-performance ratio almost perfect. Obviously, the PS4 isn't the most recent PlayStation console on the block these days but fortunately, the original PSVR is fully compatible with the PS5. Sony has officially announced that PS VR2 is coming soon, however, so you might want to hold off if you're the proud owner of a next-gen Sony console.
Read our full PlayStation VR review for more details
Key specs – Display resolution: 1,920 x 1,080; Display type: OLED; Refresh rate: 120Hz; Field of View: 100 degrees; Supported software: PlayStation VR titles; Dimensions: 187 x 185 x 277mm; Weight: 610g
4. HTC Vive Cosmos: The best Oculus Rift S alternative
Price: £695 | Buy now from Amazon
The HTC Vive Cosmos is an incredibly well-specced HMD. With a combined display resolution of 2,880 x 1,700 (1,440 x 1,700 per eye), it tops the charts in terms of screen quality, beating its predecessor the Vive Pro, and only falling short of the £900 Valve Index and the £300 Oculus Quest 2. This penchant for the premium extends to all corners of the Cosmos: the build is sturdy, and the visor, more comfortable than that of any headset on this list. The addition of built-in tracking cameras, meanwhile, vastly simplifies the setup.
It's by no means a perfect headset, however. The Cosmos still suffers from a few niggling flaws, not least of which is the bloated price tag. The Cosmos controllers are unwieldy, and the lenses have a pitifully small sweet spot, so you will notice strong blurring if you move your eyes from the centre of the image. HTC's Viveport user interface, moreover, is far less polished than the Oculus or Steam equivalents.
This is a VR headset for HTC loyalists, particularly those who already own additional base stations and/or the Vive Pro controllers (the Cosmos can take advantage of both). It's also for those who want a headset that sits between the very traditional HTC Vive Pro 2 and the user-friendly Oculus Quest 2 – a spot no longer filled by the esteemed and dearly departed Oculus Rift S.
Read our full HTC Vive Cosmos review for more details
Key specs – Display resolution: 2,880 x 1,700; Display type: LCD; Refresh rate: 90Hz; Field of View: 110 degrees; Supported software: Viveport, Steam VR; Dimensions: N/A; Weight: 645g
5. Nintendo Labo VR Kit: The best (and only) VR headset for Nintendo Switch
Price: from £35 | Buy now from Nintendo
The most niche entry on this list by far, the Nintendo Labo VR Kit can only be used by those who own a Nintendo Switch already. An extension of Nintendo Labo, the Labo VR is not so much a headset as a collection of wearable cardboard "Toy-Cons" that are built by the user. To enjoy Nintendo's virtual reality creations, you slot the Switch console into a small cardboard unit that straps onto the head, with a pair of plastic goggles acting as the lens between eyes and display. From there, you add the buildable headset attachments, each of which has its own specific set of VR mini-games.
Building times really vary between the VR Toy-Cons; the main headset takes less than 30mins but the larger, more intricate attachments can take over 2hrs to complete. The Labo VR Starter Set costs just £35, which is excellent value for money. Nintendo Labo VR offers something totally different from every other VR headset and is also completely eco-friendly, as all the parts are made from recyclable reinforced cardboard.
Read our full Nintendo Labo VR Kit review for more details
Key specs – N/A. Nintendo Labo requires a Nintendo Switch console, which itself has a 1,280 x 720 LCD display with a max 30Hz refresh rate.
How to choose the best VR headset for you (continued)
What's the difference between virtual reality, augmented reality and mixed reality?
If you're a newcomer to VR, you will probably have seen or heard the phrases above. But what exactly do they mean?
Virtual reality: Peering into a specially designed pair of goggles that display a 3D CGI environment that you can interact with using wand-like controllers (or in some cases, your hands).
Augmented reality: Layering computer-generated graphics on top of real-world image capturing technology. If you've ever played Pokemon Go, you've experienced augmented reality (through the lens of your smartphone).
Mixed reality: A combination of VR and AR. Mixed reality takes the concept of AR – layering CGI over the real world – and improves upon it by enabling more complex interactions between the virtual and the real.
Confused? Don't be. Every product on our list is a good old-fashioned virtual reality headset. You'll find that headsets with the "Windows Mixed Reality" label have been discontinued – but if you do happen across one that's available to buy, know that it's just a VR headset with support for Microsoft's own VR software.
What about the rest of the jargon?
HMD: Head-Mounted Display – The catch-all term for the VR headset itself, excluding any peripherals.
Base stations: Small-ish sensors that track the movement of both the HMD and the motion controllers. Some VR headsets require you to set up a few base stations around the room you intend to play in.
Inside-out tracking: Rather than using base stations, it's becoming more common these days for VR headsets to be dotted with cameras that track your movement, and the movement of your controllers. This is called inside-out tracking, and it's really great: base stations are space-consuming and a pain to set up.
IPD slider: Inter-Pupillary Distance slider – a physical or virtual slider that allows you to widen or shrink the gap between the two lenses inside the HMD. After all, some of us have bigger heads or wider-set eyes than others.
Sweet spot: The area right in the centre of the lens that affords the clearest view of the display itself. The larger the sweet spot, the better.
Screen-door effect: This is when you can see the individual pixels of your headset's display, arranged in a grid that overlays the image. It's an unfortunate side-effect of the current limitations of VR technology; the higher the resolution of the display, the less visible the screen-door effect is.
What on earth is the metaverse?
When Facebook announced that it would be rebranding to "Meta", it also revealed that it would be expanding into something called the metaverse in a major way. In the accompanying Tweet, Facebook-now-Meta described the metaverse in the most understandable manner we could find: "a place where we'll play and connect in 3D".
At its core, that's all the metaverse is: any collaborative virtual environment accessed via a VR headset like the Oculus/Meta Quest 2. Applications that fall under the metaverse umbrella have actually been around for a while now: VRChat and Rec Room allow users to don a headset, create an avatar and jump into a virtual world shared by others where they can play games, hang out or just sit and marvel at the scenery.
Follow this particular thread to its destination and you might imagine something like Ready Player One, where the metaverse is a thriving world complete with a functioning economy and social classes. While it's true that several companies are buying up virtual real estate in the metaverse, however, we're a little way off the dystopian future Cline imagines in his novel.
Back to top
VR headsets for VR-club games
Contents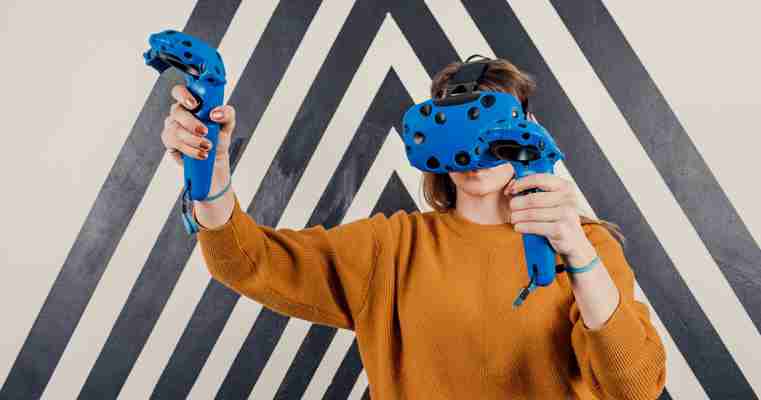 Introduction VR helmets types VR helmets for games & exhibitions VR set for your business: what's included Should I buy second-hand VR stuff VR equipment maintenance VR software Conclusions
#1 Introduction
VR glasses and helmets were first heavy, primitive, inconvenient, and expensive. However, technologies have developed, so the VR headsets did. In 2013 the VR history changed utterly. Technology has improved VR performance, making the VR business look close to as we have it now.
More than eight years have passed, so sure, now VR is pretty powerful. The VR business shows prosperous perspectives. Many entrepreneurs will try to enter the niche in 2022. Are you thinking about opening a VR club? If so, read this article about starting a VR club. We've mentioned a lot of pitfalls and prepared many helpful hacks to improve the start.
What's VR? VR means Virtual Reality. It is a general name for all the worlds modelled using computers and other modern devices. Usually, VR requires special equipment. For instance, headphones, VR glasses, headsets, gloves, etc. How much does VR cost? The price depends on the type you are choosing. VR isn't the most expensive entertainment to try. One session typically costs up to $20. The most popular VR options: VR clubs are the clubs to gather and play VR games. They offer many exciting games and funny & educational activities.
VR art galleries or Virtual Reality exhibitions are popular among modern art lovers. VR museums allow interactive art performances and other cultural stuff. Is Virtual Reality dangerous? Not at all. If you follow all the rules, it is 100% safe. For example, the recommendations are not to play VR games or visit VR museums more than twice per week. Also, you shouldn't spend more than 1 hour per game in a VR club. What is the best software for VR club? EasyWeek software helps to get online appointments, has many helpful features and is cheap. You can try EasyWeek for your business for free.
#2 VR helmets types
VR is a popular business nowadays. Naturally, the demand has created its supply. A lot of companies produce VR helmets and other VR equipment. You can choose a good option for any case.
Some VR lovers select budget minimalistic solutions. In comparison, others invest in complex Pro-devices. Choose what's the best option in your case. We have prepared a short checklist on VR helmets types. Let's take a look at it!
Three types of VR helmets:
Non-immersive VR helmets. The VR helmets with mobile equipment. A special app in your smartphone connects with this type of helmet. The gadget is placed into the front part of the helmet to allow a player to enjoy video games and other stuff. Semi-immersive VR helmets. They have come to change the previous type. This type of VR equipment has its software inside. They do not require any additional gadgets to work well. These helmets can be connected to the computer. However, there is no need to do it all the time. The helmets track all the movements and smoothly immerse a player in VR reality. Fully-immersive VR simulations are headsets with their own VR software, which you can connect to a computer or game console. The powerful laptop helps to keep the graphics standards extremely high.
Comparing the models pay attention to the following notions:
design and comfort,
whether it's easy-to-use,
whether it's powerful enough,
graphics and sound,
tracking movement,
memory capacity,
software type,
wired/wireless connection,
price,
band reputation.
#3 VR helmets for games & exhibitions
Non-immersive VR equipment or a 3DOF VR helmet is the cheapest option. The helmets track head movements without any other dimensions.
This type is the basic one. It doesn't have all the PRO features but still copes with VR videos and simple games.
3D graphics here is more like a cartoon type. The equipment is wireless and pretty light.
Semi-immersive helmets. Starting with 2020, this type of VR helmet is equipped with 2k video resolution, 90 GHz refresh rate and a powerful CPU.
The helmet tracks movement along and around three axes, providing 6 degrees of VR freedom (6DOF).
6DOF provides a complete immersion into the VR world. There is no need to connect the helmet to any laptop, so it's handy to move using it.
This type of VR equipment allows seeing VR stuff via different dimensions. It is very close to a real-life view.
Powerful sound system. Semi-immersive VR helmets have an audio system. Its power is enough to work well in crowded places like malls or VR exhibitions. These helmets are suitable for VR museums.
Fully immersive VR simulations offer a wired connection to the computer. It is beneficial for heavy games. These headsets create their system, so they are perfect for business and private purposes. VR clubs are usually built based on these VR solutions.
Wired connection provides 4k video resolution for each eye. Thanks to such high resolution, even the tiniest texts will be well-seen and easy to read.
Fully immersive sets are expensive. Their price depends on the features the helmet includes.
Always test the equipment. VR club requires only professional stuff, so make sure to test it well before opening.
#4 VR set for your business: what's included
There are many VR set types, so several prices. But, first, let's see what the most popular VR equipment sets are.
Headset + controller: Oculus Go will cost about $400. It is a Chinese VR helmet for gamers. The headset allows total immersion into the VR world. At the same time, the controller helps to coordinate in this reality.
Oculus Quest 2 is a mighty helmet with excellent graphics (1832х1920 for each eye). CPU Qualcomm Snapdragon XR2 helps to cope even with any game. The headset offers up to 256 GB of memory. The kit includes a VR headset, an insert for regular VR glasses, two joysticks, a power supply and a power cable. This headset will cost about $450.
Primax 8K X is a 200-degree viewing angle helmet with a 4k ultra-high-resolution display which allows the best VR experience for business and domestic purposes. The equipment will cost you up to $2500: the price depends on its memory and seller.
XTAL 8K is the best choice for aviators, expert racers and professional designers. It is equipped with an Intel Core i7 and a GeForce GTX 2060 or higher graphics card. XTAL 8K Headset offers Vive Tracking ClipOn, USB danglers (Vive Controllers support) and maintenance supplies – one of the most expensive VR choices. XTAL 8K costs about $30 000.
#5 Should I buy second-hand VR stuff
"Should I get a second-hand VR helmet?" – is among the TOP questions for many businessmen. Well, you can. Why not? If you are low on budget and would like to save, consider this option.
The market is full of second-hand VR solutions. The main thing is to check the equipment well. Then, choose trustworthy sellers with positive client reviews. That's your guarantee of a good product.
We advise buying VR helmets on platforms like Amazon. Then, even if something happens, the website will be on your side. It offers convenient rules both for clients and sellers.
Also, make sure that the equipment you get will work for a long time. It is hard to do, but we must. Buying second-hand stuff may save you money, but it'll waste your nerves.
#6 VR equipment maintenance
VR glasses and helmets are sensitive. They cost a lot, so you may want to protect this equipment from sunlight and other damages. The best solution is to cover all the screens when they aren't in active use. There are special papers and other options.
Microfiber napkins for electronics are handy for cleaning such gentle surfaces. We also advise blowing out slots with compressed air to keep dust out.
If you are a big chain and have a lot of visitors, get single-use masks to protect both equipment and guests. The masks aren't expensive and are pretty helpful to work with daily. Use Amazon to find all the consumables for VR maintenance.
#7 VR software
VR business is an active niche to enter. A lot of business owners have already invested in VR clubs and exhibitions. Clients demand it, so why not?
When starting a VR club or museum, the main thing to know is smart business planning and quality equipment. Both are extremely important. A famous VR club offers more than others. There are two basic options to cope with this task:
Investing in high-quality and rare VR helmets.
Motivating team to work the best possible.
It sounds like team motivation may be more accessible. Actually, yes and no. You'll win if you know how to motivate your staff well. However, it doesn't mean that staff motivation does not require investment.
EasyWeek software advises helping your employees by automating routines. Unfortunately, too many daily processes eat time and steal energy. Pretty often, they are irritating. Sure, they have to be done but remember that people should work smartly. CRM is the best solution for VR automation.
VR software offers total process automation, 24/7 online appointments, a free website and much more. Would you like to try it? Then we have some good news for you! EasyWeek offers handy and affordable business automation. It suits both small and midsize businesses.
#8 Conclusions
Opening a VR business is a challenging task that requires thoughtful planning, business automation and the best quality equipment. If you are going to start a VR club, pay attention to its team and location.
The business is expensive because of its equipment. We are sure you'd like to save, so do it! Select quality second-have VR sets, check them well, why not?
Would you like to save even more? Then connect VR software to automate routines and offer your employees the freedom of comfortable work. Contact our support to see why EasyWeek is what you need. We are sure you'll love the software the same as we do. Feel free to text in case of any queries or feedback.
10 Best VR headsets for gaming and metaverse in 2022
VR headsets have slowly been integrating into the gaming world over the past few years. While initially there were few options, all of which were quite expensive, there are now plenty of choices.

Whether you're looking to play VR games on a PC, console or on your phone, or a headset to enter the metaverse, these are the best VR headsets you can get right now.
The best VR headsets for gaming and metaverse
Metaverse VR headsets
There are multiple VR headsets, but the ones typically compatible with metaverse games that have VR support include: Oculus Quest 2
Oculus Rift
HTC Vive Pro 2 HTC Vive Focus 3
HTC Vive Cosmos Elite
Valve Index There are multiple VR headsets, but the ones typically compatible with metaverse games that have VR support include:
Best overall: Oculus Quest 2
The Oculus Quest 2 balances quality and ease of use as well as the price best when compared to competitor brands. And for metaverses with VR capabilities, the Oculus Quest 2 is almost always supported.
In addition to being a fantastic standalone VR headset, it also has big improvements on the original Oculus Quest. It has 1832×1920 pixels per eye (up from 1440×1600) and a 90Hz refresh rate (up from 72Hz).
It still isn't as powerful as Oculus's premium Rift S but that requires a beefy gaming PC to operate. However, the Quest 2 can be given a bit more grunt via the Quest Link function, which allows you to tether it to a PC, which then lets you play more graphically demanding games, making the experience more comparable with the Rift S.
For more information, check out our full review of the Oculus Quest 2.
Best Budget VR headset: VR Box 2.0
If you want to experience VR at a low cost, then using your smartphone as the CPU and screen is the way to go. With smartphone VR headsets, the heavy lifting is done by your phone and the apps installed. As such, there is no shortage of smartphone VR headset options to choose from that cost between $20 and $100 on Amazon and eBay. They all do a decent job, with review scores impacted simply because people expect a premium experience despite the price.
We've given the VR Box 2.0 the nod over the rest of the smartphone VR headsets for a couple of reasons. It's on the cheaper end for starters at around $30. It's got a head strap, so your arms don't get tired since you don't need to hold it to your face. It's widely available. It can take phones 3.5 to 6.1 inches in size. There's even an IPD dial (range 58mm to 72mm) and a healthy 95-degree field of view.
Perhaps more importantly, it comes with a Bluetooth controller and some well-thought-out design quirks. For example, a vent on the side allows you to access your headphone jack/lightning port. And a slide on the front can expose your camera for passthrough.
Smartphone VR does provide a surprisingly revealing and tantalizing approximation of the real deal. You can't play the big-budget, high-profile VR games on it, but there are a number of interesting experiences available for free on the various app stores that give you a decent idea of what the more expensive headsets are capable of. Proper VR enthusiasts should steer clear, but the hesitant or curious have little to lose.
For metaverse games with mobile apps, such as Roblox (though not a blockchain game), VR Box 2.0 is a solid choice.
Best premium VR headset: HTC Vive Pro 2
If you want one of the best VR headsets and price is no object, the HTC Vive Pro 2 is where it's at. It offers a best-in-class combination of resolution, field of view and refresh rate. The headset is well designed for comfort thanks to its padding, has easy-to-access dials and a balanced display. The onboard audio is adjustable and immersive.
Additionally, metaverses with VR capabilities typically support HTC products, including metaverse games such as Somnium Space.
With access to both VIVEPORT and SteamVR, you've got the best games and experiences to choose from. And the headset works with all the Vive ecosystem accessories, including the Wireless Adaptor and the Facial Tracker. Of course, you pay for all this — premium wouldn't be premium if it wasn't also expensive.
It's not all it could be, however. It relies on the Base Stations and the old Wand controllers, which have low battery life. It's also hampered by a complex set-up for room-scale VR. Plus, you're better off using the Valve Index controllers instead of the Wands since they have finger tracking.
Read our full HTC Vive Pro 2 review
Best mid-tier PCVR headset: Vive Cosmos Elite
If you want a wireless full-room standing VR set-up and are willing to sacrifice the money and your living space, the Vive Cosmos Elite is the premium wireless high-end option available (though if you can manage to import a Valve Index headset from a reseller, consider doing that instead).
The Elite version of the Cosmos utilizes external trackers, combined with handheld "wands," to capture your movements as you wander around a six-foot by five-foot play space, free to interact with your surroundings in whatever ways the software allows. It's a different, more immersive way of experiencing VR than the seated options, but it requires a significant setup and a decent amount of space in your home.
Under the hood, it packs an impressive punch: the 2880×1700 overall resolution, 90Hz refresh rate and 110-degree field of view are top-of-class specs. The flip-up screen is both practical and helpful, allowing you to switch between virtual reality and actual reality.
There are more convenient, better value options available, but if you want to experience the VR effect in its most powerful and convincing form — standing, without a wire and powered by a high-end PC — this is a solid choice.
Vive Cosmos Elite is an HTC product, and is typically supported in metaverse games with VR capabilities.
Best standalone wireless VR headset: Oculus Quest 2
The Oculus Quest is easily one of the best standalone VR headsets out there. It sits at 4.8 stars from more than 5,000 Google reviews and has secured countless accolades from professional critics. The bad news: it's officially discontinued. The good news: Oculus released the Quest 2 earlier this year.
Quest headsets are as close as VR gets to being convenient: no wires and clutter, no cameras to configure and no expensive PCs or consoles to maintain. This might seem like a trivial concern, but, speaking from a personal experience, the single biggest barrier to using VR regularly is the hassle of setting it up each night.
Best console VR headset: PlayStation VR
PlayStation VR takes this category practically by default on account of being the only dedicated console VR headset. Fortunately, for PlayStation 4 owners, it's a fun, relatively affordable option for diving into VR. However, if you're aiming to enter a decentralized metaverse, PSVR isn't for you — it's for console gamers.
PlayStation VR's ace is that it's significantly cheaper than PC VR or standalone VR (provided you already own a PS4). There's also a good library of exclusive games not available on other platforms: Astro Bot Rescue Mission, Resident Evil VII, Dreams and Ace Combat 7 among many others are well worth your time.
Being cheaper, and now slightly older, there are a few downsides. Each eye has a resolution of 960×1080, which is lower than newer Oculus and Vive headsets, so you will notice the "screen door effect" more. It doesn't ruin the illusion, but it doesn't help it either.
Having heavy cords draped across the living room floor from the PlayStation isn't exactly ideal, either. Still, on balance, PlayStation VR is a good cheaper option and the best value VR option for PS4 owners.
Best VR headset for business and enterprise: Vive Focus 3
HTC consistently delivers quality high-end VR headsets, and the Focus 3 is not only home to a comfortable design, but to top-of-the-line specs as well. Its dual 2.5K lenses and 120-degree field of view were as good as it got when it was released in June 2021. And while the 90Hz refresh rate isn't stunning, it's still solid.
The headset is completely wireless and therefore doesn't require a high-end PC to run. The new controllers also have great battery life and excellent inside-out tracking. These aspects make it flexible for businesses that want to use VR on show floors, meetings or to train staff. It's a cinch to set up and can be deconstructed easily for cleaning between users.
The main reason the HTC Vive Focus 3 gets our nod as the best business/enterprise VR headset is because of the backend support it offers companies. It comes with a 6-month subscription to the XR Suite on VIVEPORT, which has tons of business-orientated apps. For example, you can get Vive Sync for VR group teleconferencing.
You also get Android Enterprise MDM compatibility so your IT can manage multiple headsets as well as two years of Vive Enterprise Business Warranty and Service. And you can get onboard data encryption so sensitive information isn't lost to the Net.
And again, HTC products are supported in multiple decentralized metaverses.
Read the full HTC Vive Focus 3 review
Best VR headset for kids: Nintendo Labo
To the surprise of many, in 2019, Nintendo got back into VR gaming. A surprise, at least, to those who remember the famously lame colossal turkey that was 1995's Virtual Boy. Nintendo's latest VR entry ties into its Nintendo Labo Toy-Con range. It borrows from the Google Cardboard concept but brings with it the kind of flair and sense of fun for which the Mushroom Kingdom has become so famous.
Before you can use your new VR headset, you need to build it. It's extremely well designed and thought out, allowing you to fold, fix and fit together a cardboard shell that can hold a gasket and a Switch console. The latter becomes the screen in much the same way a phone does in set-ups like Samsung Gear VR.
You then hold the constructed headset up to your eyes to play solo or multiplayer games. The design is made so it's easy to swap between friends, but that does mean holding the screen up for long periods, which can tire out your arms. However, there are a number of designs – like flapping birds, guns and elephants – that make it so much more than just a headset.
Best of all, you can get the starter kit for less than $100, and there's been a steady release of expansions.
When it comes to metaverse exploring, the Nintendo Labo isn't what you need.
Best VR controller experience: Valve Index
Despite the two-year gap between the Valve Index and the HTC Vive Pro 2, it's a split hair between which is the better of the two premium headsets. We gave the nod to the Pro 2 in that category because it has the edge in specs, comfort and accessories, but the Valve Index most certainly holds its own. You can see the video below for a more comprehensive analysis.
When it comes to which one has the better controllers, it's lay-down misère for the Valve Index. Unique to the VR headset space, the so-called knuckles controller has a strap that binds your hand to its grip. Buttons and a thumb touchpad are all easy to reach and use, too.
The winning feature, however, is finger tracking. Each individual finger is tracked, allowing you to interact with games in a whole new way. It adds up to a more immersive experience. For example, in music games, you can play individual notes. And in online shooters, you can flip the bird at an opponent.
Interestingly, while the full Valve Index kit is the cheapest way to get and play with these controllers, the knuckles work with HTC Vive headsets, too. If you have the financial means, you can buy an HTC Vive Pro 2 and play it with the Valve Index controllers.
Valve Index is supported in a handful of metaverse games, including Somnium Space, but Oculus is more widely accepted.
Read our full Valve Index review.
Best 2022 VR headset: PSVR 2
eBay prices last updated on 2 November, 2022 at 10:01 pm
The PSVR 2 is our choice for the most anticipated best VR headset for 2022. We've already seen the controllers, which not only deliver finger tracking but also haptic feedback and adaptive triggers. But the power of the PlayStation 5 promises to offer a high-end VR experience for consumers that don't own a super high-end PC. Not to mention there will be a host of big-name Sony experiences exclusive to PSVR 2.
Overall, 2022 is set to be a huge year in VR as we're on the cusp of big innovations that can take this tech forward. As we've already seen with the Varjo Aero, foveated rendering and eye tracking are bringing a new standard to what gamers can expect. Plus, OLED screens and finger tracking controllers are becoming the preferred choice. And, better inside-out tracking should allow us to do away with cumbersome base station set-ups.
We're also hopeful that the proliferation of Wi-Fi 6E chips and improvements to display stream compression will see more functional wireless experiences on premium PCVR headsets. Cutting the cord would be oh so lovely.
Methodology Our technology expert Chris Stead went hands-on and reviewed the majority of VR headsets on the market.
Our editorial team compared virtual reality headsets found at major retailers and online stores across the US.
We examined hundreds of customer reviews and ratings and cross-referenced our selections with expert reviews and our own testing.
The products on this list are chosen by our editorial team and are not selected based on commercial relationships. Why you can trust our picks Our editorial team has extensive professional and personal experience with the virtual-reality medium. We also read through hundreds of user reviewers for VR headsets and compared them with professional reviews. We then carefully researched each product and compared costs to establish value propositions. For the budget category, headsets cheaper than $100 were considered. The premium categories had no price ceiling.
How to compare VR headsets
Consider the following factors when choosing a VR headset.
Room-scale VR vs. seated VR With seated VR, you're confined to a chair while wearing the headset. Your head movement is tracked and reproduced on-screen, but locomotion — the movement of your in-game character through the digital world — happens using a controller. Seated VR is typically cheaper. With room-scale multiple cameras are set up around the play area. These track your body's position, allowing you to walk, jump or even dance and have that motion reproduced in the game. It's more expensive and can be impractical for a lot of homes because it requires a somewhat empty, dedicated room. PC, console, mobile or standalone Standalone VR has only recently hit the market, so most VR headsets need another device to power them. In the case of Oculus Rift or HTC Vive, you'll need a powerful PC with a beefy graphics card. PSVR runs on the PlayStation 4, while Google's entry-level Cardboard headsets use your mobile phone. It's worth factoring these devices into your cost equations if you need to pick up extra hardware. Note that Sony announced that a PSVR 2 headset is in the works for the PlayStation 5, and it's set to be backwards compatible with PSVR 1 games. Resolution The resolution of VR headsets, like televisions, is measured in pixels. Because the screen inside a VR headset is situated so close to your eyes, lower resolutions are particularly noticeable. You'll see the gaps between pixels prominently, a visual phenomenon called the "screen door effect". Higher resolutions are always better. When comparing VR headsets, consider the relative pixel counts of devices. But be cautious: some manufacturers list the "per eye" resolution while others list the combined resolution. If one model seems like it's double the resolution of another, it's almost certainly using the combined measure.